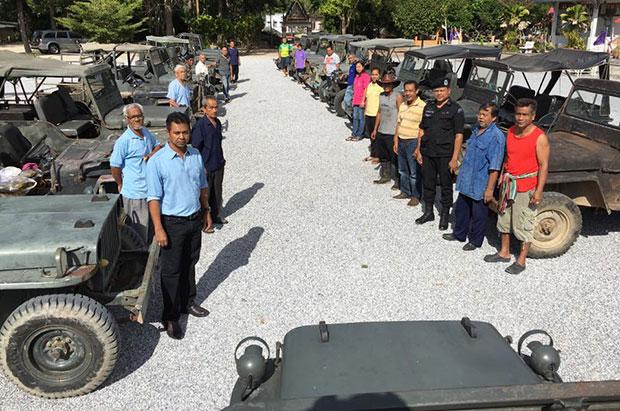 A working prototype was built by The Bantam Car Company, and although it met almost all the specifications the US Army was uncertain about Bantam's ability to build enough vehicles. The designs were sent to Ford, and to a company called Willys-Overland, and Willys came up with a modified version that became the standard design.
The company could not produce enough vehicles, however, so Ford was granted a licence to start production on a large scale. Working flat out, the two companies could produce a new vehicle every 90 seconds.
The origin of the name 'Jeep' is lost in time, and there are several stories. One of them relates how the first production model was demonstrated by a Willys Overland test driver, who drove the vehicle up the steps of the US Capitol building. When a reporter asked what the vehicle was called, he replied 'It's a Jeep'.
Between them, Ford and Willys-Overland built a total of 640,000 Jeeps during the war. They were supplied to every US Army unit and were used for a variety of purposes. The Jeep became a legend – one US General describing it as America's greatest contribution to the War.
The legend lives on in the Thailand village of Ban Tachi. The village is surrounded by mountains, and at the end of the war, it was very difficult to reach. An old army Jeep turned up, and was an immediate success- the villagers saw it as the answer to their transport problems.
Over the years, more and more Jeeps appeared, and today there are over 200 of them in daily use – most of them are original World War ll versions, others from later dates Lovingly preserved, these small four-wheel drive vehicles are still going strong over 70 years after they were built.